Givi DLM46B Trekker Dolomiti Black Line - 46 Litre
Availability:
Out of stock
Trekker Dolomiti MONOKEY case in a aluminium finish, matt black painted, 46 ltr
Designed for rear placement, this 46-LTR top case attaches to the motorcycle using a MONOKEY plate.
In full aluminium, it features soft lines and a rounder structure than the other TREKKER options in lightweight alloys, a factor that makes the DOLOMITI models suitable for accessorising a wide range of motorcycles, especially classic or café racer styles.
The black paint of the "BLACK LINE" version offers a bold and high-tech alternative, which expands the possibilities for configuration based on the aesthetic of your motorcycle.
The top case can comfortably hold 2 jet helmets or a single modular/full-face helmet.
The elegant appearance is joined by advanced technical features, which include a Security Lock mechanism and 4 upper strap loops in nylon, which make it possible to fix additional bags.
Finally, there is no shortage of ways to personalise this rear case with its numerous dedicated optionals: from the elasticated net to be attached under the lid, the nylon rack and the polyurethane backrest, to the waterproof inner bag, the base trolley and many others.
Note: it cannot be fixed to plates equipped with the stop light kit connection.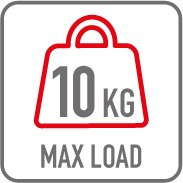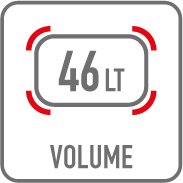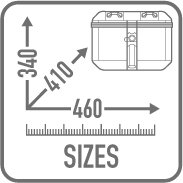 Features: