Givi TRK46N Trekker Black Suitcase - 46 Litre
46 ltr case black with anodised aluminium finish with top opening
With a 46-LTR capacity, capable of holding a modular helmet plus other useful accessories for a motorcycle trip, this case is sold as a single unit and can be mounted to the side or rear (using a MONOKEY® plate).
Aesthetically, the TRK46N stands out for the layer of anodised aluminium that adorns the lid and for the typical grid-like formation that wraps around the structure in contrasting colour technopolymer, adding extra strength. This detail makes it suitable for mounting on enduro road bikes, crossovers, and even elegant road touring models.
The TRK46N is a practical solution if your motorcycle has a high lateral exhaust. Paired with the more compact 33-LTR model, for mounting on the side of the muffler, it solves the problem of asymmetrical side loads which happens with traditional pairs of cases.
Finally, thanks to the internal switches, you can choose whether to open the entire lid or just the uppermost hatch. Naturally, it also features the standard Security Lock mechanism.
The many optional accessories available for this versatile case make it highly customisable.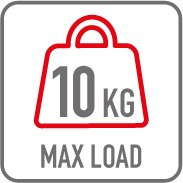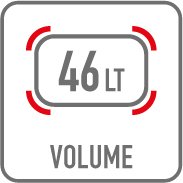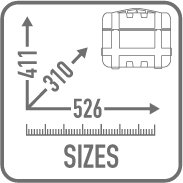 Features: