Mitas

Safe, dynamic and rider-friendly tire
MITAS TERRAFORCE-R REAR
Safe, dynamic and rider-friendly tyre
NEW TECHNOLOGY
OSCT – Optimum Steel Cord Technology The OSC technology allows defining the optimum construction of the reinforcing 0° steel cord as well as the optimum arrangement of steel cord breakers within a tyre carcass.
The end result is an ideally balanced tyre, which ensures optimal contact patch between the tyre and the road surface in all driving conditions, especially at greater lean angles and higher speeds.
The OSC technology enables a precise determination of comfort and rigid zone position within a carcass. With a suitable zone position, either sports or touring characteristics of a tyre, or a combination of both, can be emphasised.
Key Features
Immediate grip, excellent traction on wet or dry roads, strong carcass and high puncture resistance.
Easy steering and manoeuvrability with good straight and corner stability.
Consistent performance through its lifetime and under heavy loads.
Most modern elastomers and high active fillers for excellent grip in all conditions, optimal balanced wear rate and maximum confidence.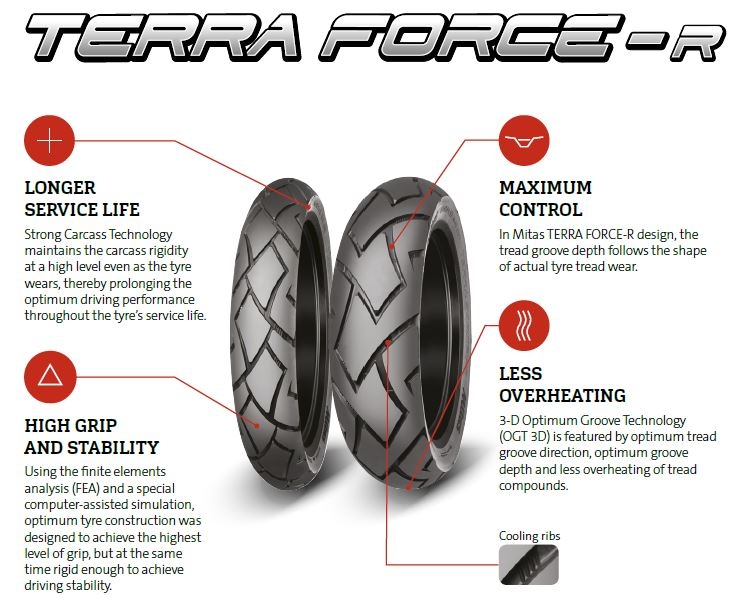 At Motorace, you can find a full range of Mitas tires, ready to ship to your door.